Kursiv Magazine
Kursiv Magazine was established in 1996 to provide new and hot information on latest developments of world's prepress and printing industry for Russian readership.
Unlike many other field magazines Kursiv Magazine concentrates on technology rather than on marketing or advertising articles. Kursiv Magazine publishes just the original articles written by Russian professionals in prepress and printing field. (The magazine is not a Russian edition of some international publication.)
The main aim of Kursiv Magazine is to give its readers true and detailed information together with recommendations on practical usage and economic issues of new or evolved technologies.
Since 1997 Kursiv Magazine contains special insert specifically printed using different techniques. These pages supply reader with real illustration and comparison material that shows advantages or disadvantages of various print methods and prepress technologies.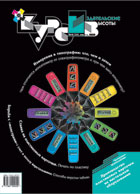 (Cover of latest issue of Kursiv Magazine, #2 (34), April 2002)
Kursiv Magazine is a bimonthly publication (6 issues per year) and has a wide circulation in Russia and other parts of former Soviet Union.