About Kursiv Seminars
International Kursiv Seminars on prepress and printing technologies take place yearly since 1995. Traditionally the seminars are conducted during largest Russian printing exhibition PoligraphInter (November, Moscow).
The aim of the seminars is to give Russian publishing community up-to-date information and insights on hottest technologies from world industry leaders, to let field experts exchange knowledge and share experience.
In 1998 Kursiv Publishers established Crystal Gutter Stick Awards for the best products shown on PoligraphInter exhibition. Crystal Gutter Stick Awards ceremony is a part of Kursiv Seminars program. This year awards winners include worldwide technology leaders, such as BARCO, Heidelberg, Komori, as well as Russian companies exhibited original products, such as Flexopack company.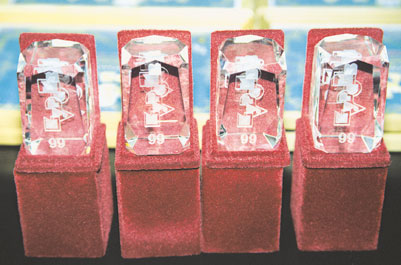 Crystal Gutter Stick Awards