Russian FTA Non-commercial organization promoting flexo in Russia

President of Association:
Nina V. Shapinova,
dipl. engineer,
Editor of «Flexo Plus»
magazine

Russian non-commercial Association of Flexography (Russian FTA)
Established in 1998, Moscow. Founded by: Moscow University of Printing, Kursiv Publishing House.

Now (2003) unites about 40 enterprises, including:
flexo package and label printing houses;
wallpaper producers;
printing equipment and materials suppliers.

Main goals:
promotion of flexography;
increase compatibility of Russian packaging;
development of Russian package printing market.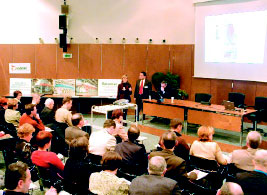 The activites of Russian Association of Flexography:
technical conferences and practical seminars on flexo technology;
consulting on flexography;
technical information on new developments in flexography;
organization of training courses on flexo techniques and technology in Russia and abroad:
establishing and development of cooperation with FTA, EFTA, DFTA and other
national and international associations;
publishing of special literature and reference books on flexography;
establishing of training center in Russia.